Have you ever wondered how much plastic is recycled worldwide? And what are the concrete benefits of recycling? We'll tell you all about it in our new Are you R article!
As consumers, we are called every day to dispose waste properly. That's essential to preserve our environment and send out a strong message against waste pollution. Yet we tend to think that our effort is just a drop in the ocean. Nothing could be more wrong!
It is sufficient to have a look at how much plastic recycling is widespread worldwide to understand the importance of the sentence 'union is strength' – now more than ever.
In this map you can check the percentage of recycled plastic in each country: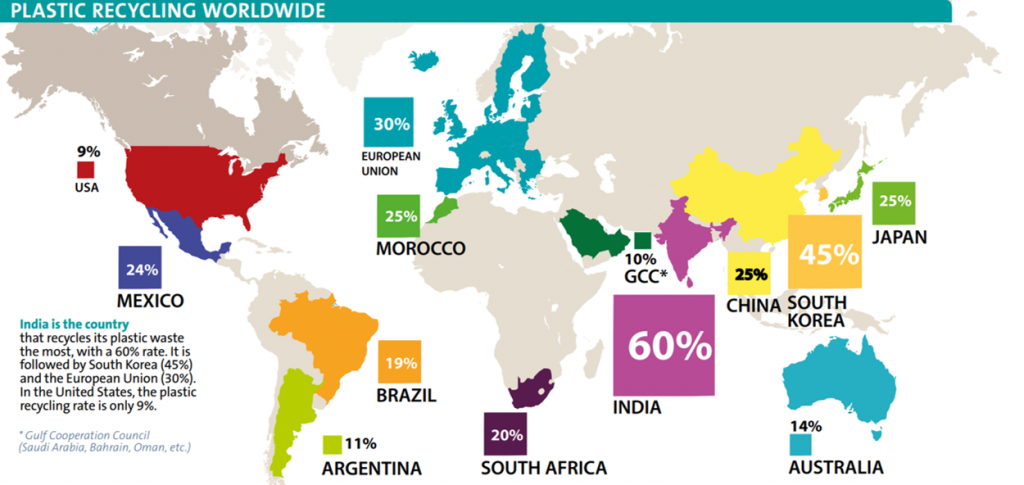 It's good to know that each country uses different units of measurement to indicate the amount of recycled plastic.
What about EU?
Plastic packaging rates in Europe – which ranked 3rd – vary from 26% to 52%.
On what do all these variations depend?
They may depend on different factors, such as consumer behaviour, facilities, and infrastructures available, as well as collection methods that – as we know – vary according to the country and area of residence.
All the benefits of recycling plastic efficiently
Collecting plastic waste and channelling it into efficient processes of recycling and recovery, also thanks to even more efficient equipment and technologies. That's widely recognised as a key way to reduce costs and environmental impacts, especially in the following areas: building and infrastructure, production, and retail sale.
We should always remember that plastic recyclability is precisely one of its main strong points – and that's exactly why it's more than mere 'waste'. It's a resource.
What are the benefits of plastic recycling in the world?
By recycling plastic materials, we not only contribute to environmental sustainability, but also boost the circular economy and give waste a second use. These are only some of the tangible and intangible benefits of plastic recycling. They truly make our daily effort worthwhile.
Now, let's see which benefits are actually brought by plastic recycling!
Provides a sustainable source of raw materials to the industry
Greatly reduces the environmental (especially the CO2) impact of plastic-rich products
Minimises the amount of plastic being sent to landfill sites
Avoids the consumption of the Earth's oil stocks
Consumes less energy than producing new, virgin polymers
Embeds the right values and behaviour to reduce human impact on the environment*.
We hope we gave you some more information about plastic recycling worldwide. Keep following us to get to know even more news! And remember – all of us can contribute to a change. As conscious and well-informed consumers, we can make the first step towards this direction.
*Source: BPF – British Plastics Federation.