Summer and recycling – is it a possible combo? Our Are you R Team believes so!
Once again, this year, the most eagerly awaited and beloved season opens, with its long days, warm sunshine and well-deserved holidays… Yet summer, for those who care about the environment, is also a very sensitive period, during which, unfortunately, the amount of waste in holiday resorts – indiscriminately abandoned by uncivilised holidaymakers – increases exponentially.
Fortunately, there is also an increasing number of recycling initiatives that, in addition to helping to curb this long-standing and serious problem, offer a wide choice of recycled plastic products that are perfect for summer. In this article, we collected some of them, sure that actions such these are useful to stir consciences and stimulate more virtuous behaviour, especially if undertaken by companies that make sustainability a concrete reality and not just sterile marketing actions.
Beach design furniture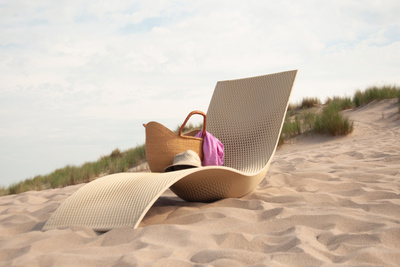 It is called The Elements and is a beach furniture project created by Rotterdam-based studio The New Raw. The designers' goal is to recycle plastic recovered from the sea through an approach that provides an effective mix of innovation and tradition. In fact, by combining advanced recycling technologies – including 3D printing of surfaces – with manual craftsmanship, The Elements offers furnishing components such as beach cabins, paths through sand and sunbeds with great aesthetic impact. Their shapes are reminiscent of typical elements of the sea, such as sea organisms and waves, while the colours feature natural shades: Aqua and Sand. Each piece is made from 80 per cent plastic recovered from the sea, which can be recycled again to create many more products in the future.
During summer 2021, The Elements furnishings were placed on several beaches in Greece, such as Crete, Rhodes and Kefalonia; we hope to see them in many more locations this year!
Beautiful eco-friendly swimsuits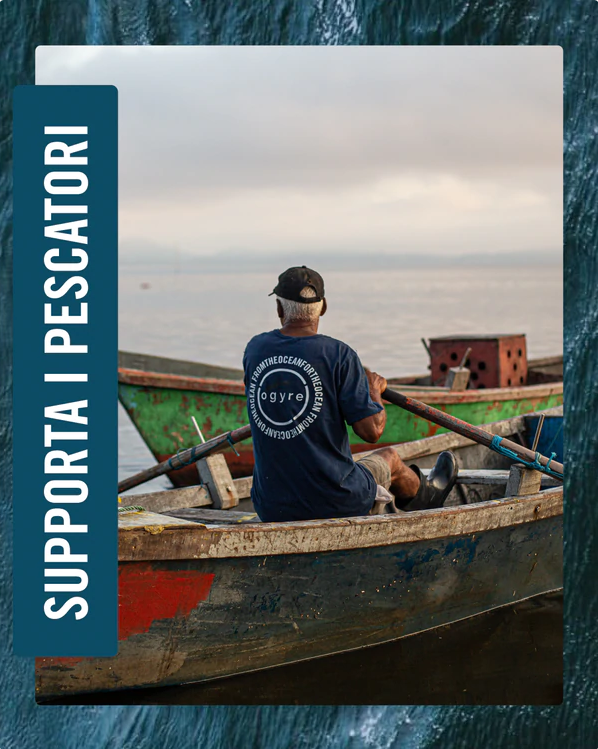 Ogyre – whose name derives from Ocean Gyres, circular ocean currents – is not simply a brand that has made love for the environment the heart of its production, but a true mindset. In fact, the objective is to rethink consumption models by putting the protection of the sea first, with the aim of overturning the paradigm that sees man exploiting natural resources. This is why Ogyre is a global platform for recovering waste from the sea, giving everyone the opportunity to contribute to the great work that fishermen are already doing.
Plastic is then recycled to make products such as bikinis, shorts and water bottles.
A new model of production, consumption and business, therefore, that rebuilds the powerful link between man and the environment, which has unfortunately become too fragile over time, and allows everyone to act in the first person by actively contributing to fishing for litters, with the motto: "From the ocean, for the ocean".
Green sunglasses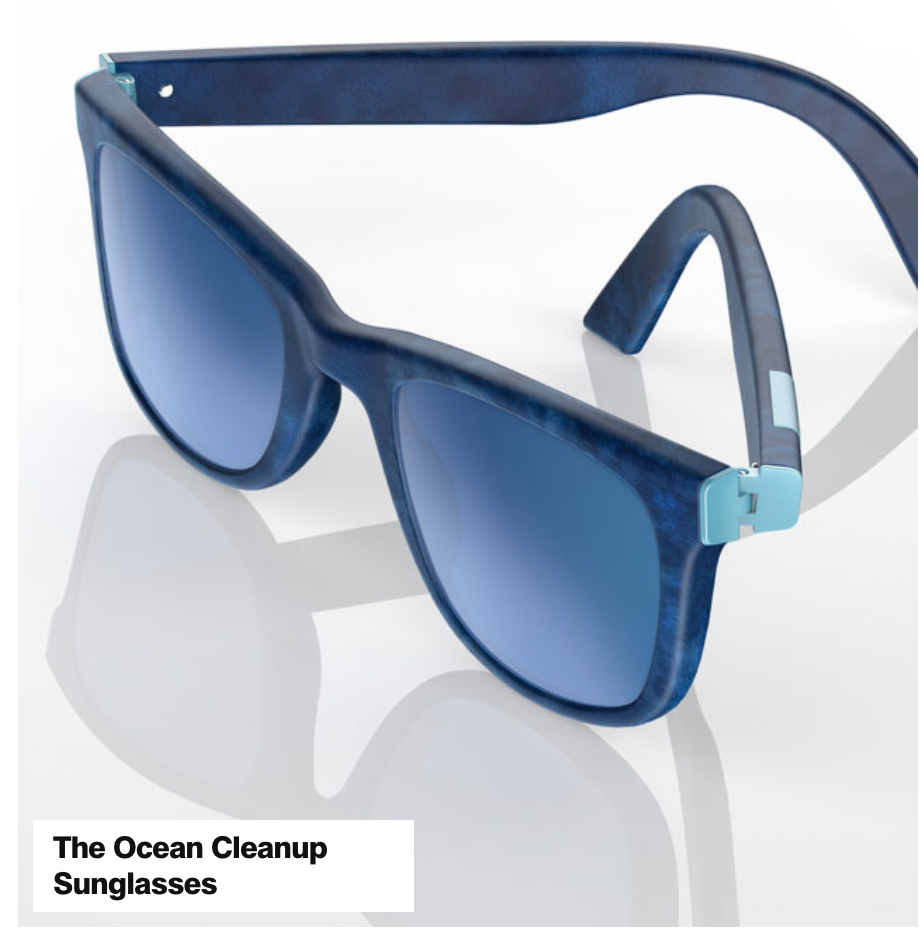 Thanks to the collaboration between designer Yves Béhar and The Ocean CleanUp project – which has been working for years with innovative technologies to clean the waters of the oceans – trendy, green sunglasses were created – made from recycled plastic recovered from the sea.
Designed in California by Fuseproject and produced by the Italian company Safilo, they exploit a state-of-the-art upcycling process that reuses heterogeneous plastic waste by transforming it into high-quality materials.
And that's not all! 100 per cent of the proceeds from the sale of the glasses will help finance the cleaning of seas, in a perfect virtuous cycle.
100% recycled beach toys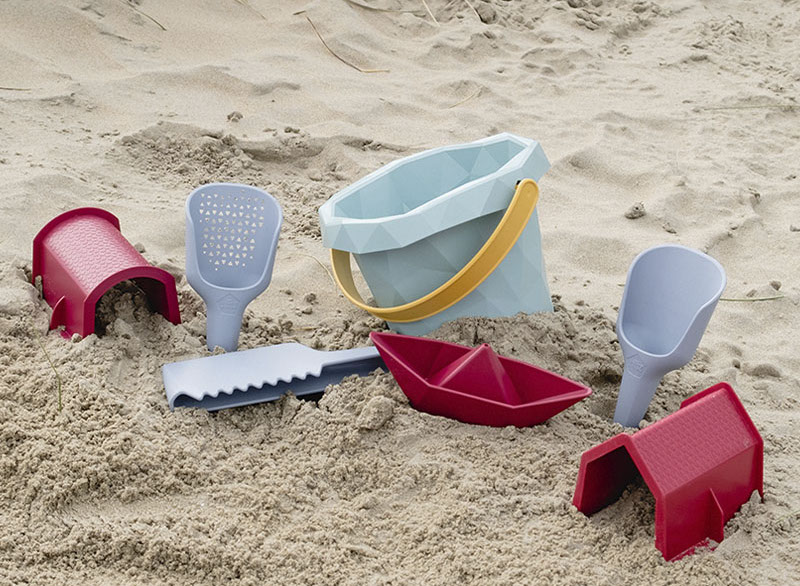 From an idea of the Dutch company Zsilt, these beach toys are made of an indestructible, high-quality material. In the version for children aged 12 months and up, they include a bucket, a sand sieve, a shovel to make many constructions and a boat to play in the sea. There is also a line for older children, from 3 years of age, which also includes a mould in the shape of a barn to make spectacular constructions, one in the shape of a house to build many amazing sand cities and a rake.
In addition to that, with every purchase you support Plastic Bank, the Canadian social enterprise that aims to clean the oceans of plastic waste while providing valuable opportunities for the people living in Haiti, the Philippines and Indonesia.
Beach towel from plastic collected from the sea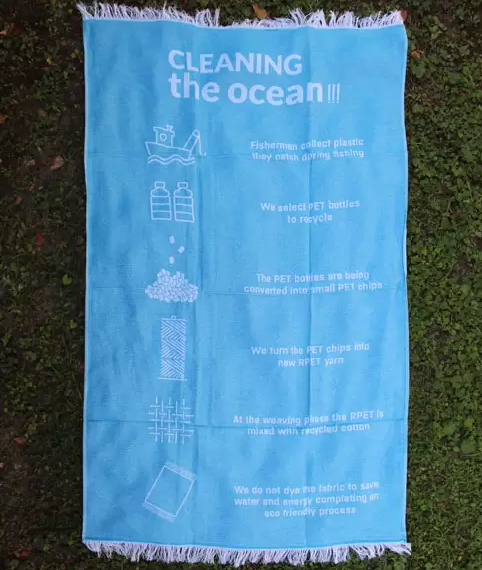 Thanks to the initiative of the Girona-based Spanish company Seaqual®, the Seatowel beach towel was produced from regenerated plastic waste. An important objective of the company, which has contributed to the collection of no less than 99 tonnes of plastic from the Mediterranean Sea, is also awareness-raising. This towel, in fact, features a nice infographic explaining how plastic collection and recycling take place.
Moreover,­­­ Seaqual cooperates with non-governmental organisations and volunteers who clean beaches, which is why a percentage of the proceeds from sales are donated to charity.
Now you are ready to dive into summer with the right products made of recycled plastic, which are original and appealing, ergonomic and innovative, as well as made to accompany summer relaxation with a circular economy focus on sustainability and design.
And remember: your contribution is also essential to keep beaches and seas beautiful and litter-free!