With plants for recycling and compounding ABS and PS scrap
With its proven experience in designing and building plants for the recycling and compounding of thermoplastic materials, Binova has recently achieved excellent commercial and technological results in the branch of ABS and PS scrap containing high percentages of polluting materials.
The first customer who had the plant installed in France in 2020, requested later four more plants and then two were installed for an Italian customer (STENA RECYCLING).
This shows how an increasing number of companies, having understood the advantages of processing waste independently rather than reselling it to third parties, are being interested in investing in this type of recycling plants, given also the high-quality results derived from the use of the material produced in various market applications.
Our recycling and compounding plants for ABS and PS scraps rely on cutting edge components, managed by a sophisticated application software, with a 100% made in Italy technology. The plant consists of an extruder, with co-rotating twin-screw technology, which allows excellent polymer mixing and high raw material degassing. Unlike traditional plants with single-screw technology, the twin-screw extruder allows remarkable energy savings (up to 30 percent). It is also possible to process material containing smaller percentages of polymers.
The degassing systems extract under high vacuum every type of material formed during the process, such as vapors, monomers, etc. In just one step and with minimal handling of materials within the plant, a double result is thus obtained, usually achieved by two steps: regeneration and compounding. The resulting product is a high-quality homogeneous material that encourages an environmentally sustainable process and offers important application opportunities on the market.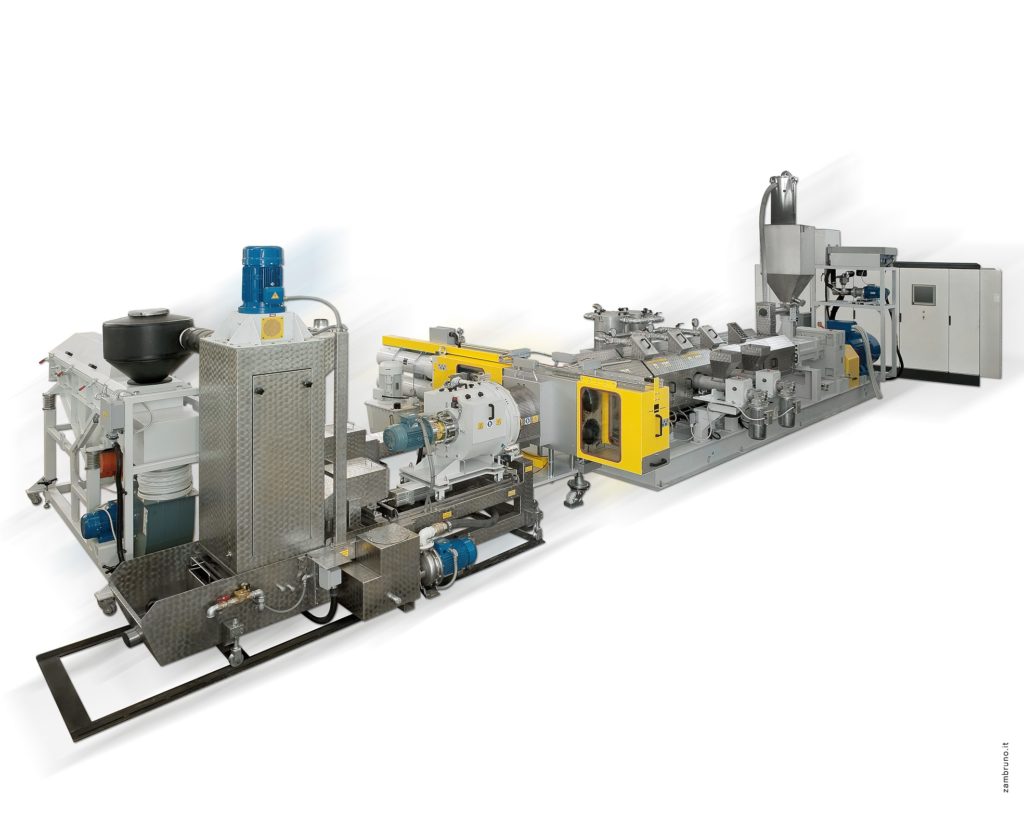 INDUSTRY 4.0 – PLANT ENGINEERING AND A FUTURE FOR CIRCULAR ECONOMY
Binova has been designing and building its regeneration and compounding plants with co-rotating twinscrew extruders, integrating them with industrial automation that relies on new technologies to improve working conditions and increase performance and production quality. The process is controlled entirely through an Application Software developed on a PLC platform and an operating panel.
Below the list of the functions:
• line configuration management (operations performed through the operating panel, eliminating most of the selectors, buttons and lamps)
• speed and synchronisms management
• alarm management
• technological parameters
• working parameters
• remote control.
As a confirmation of its already well-established ways of working, Binova has obtained, with the approval of AMAPLAST industry experts, the Industry 4.0 compliance certification. Reduce Reuse Recycle: it promotes a smart and productive recycling, which benefits both the environment and business growth.
NEW OPERATIONAL HEADQUARTERS
In order to better meet the growing market demand, Binova has finally found, a few kilometers away from the existing production site, a new operational site of approximately 2,000 square meters. This will allow the company to reorganize the warehouse through the use of new IT tools, enhance the assembly and testing processes of several plants at the same time, and expand the office area.
As a way of simplifying the design and procurement processes and improving the planning of materials workflow and assembly activities, all existing IT tools will also be upgraded. This will result in further improvement of the after-sales/spare parts service, even though already very efficient.
Contacts:
info@binovapm.it
https://www.binovapm.it